NEW BOOK TELLS THE WHOLE STORY OF 1940's BOXING CHAMP...But did we need the whole story?
by Don Stradley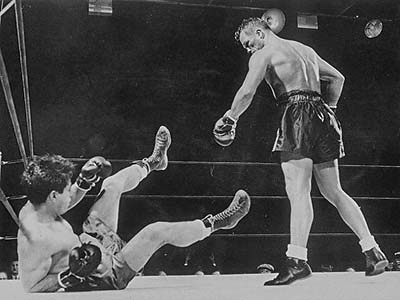 Tony Zale, the gallant middleweight boxing champion of the 1940s, was a tough guy. So tough that even after he died at age 83, the embalmers at the funeral home gaped at the fitness of his corpse. But despite his toughness, Zale has never been given the attention he would've received if he had been, say, an Italian instead of a Pole, or a New Yorker instead of a Hoosier. He remains as forgotten as the other middleweights of his time, bent-nosed pugs whose names are known to only the most curious of boxing historians, fighters like Al Hostack, and Billy Soose, and Georgie Abrams. Zale, though, seemed to stand above the rest, and since his fights were as crazily action-packed as a Popeye cartoon, one would think he deserves a rich and detailed biography.
There's plenty of detail in Tony Zale, The Man of Steel, but authors Clay Moyle and Thad Zale (the subject's nephew) have so much to say that the book is best enjoyed in small doses. Otherwise, the effect is like looking at someone's else's family album, which gets boring, even if one of the geezers in the bloodline could dish it out like an army howitzer.
Zale's father was killed when Tony was an infant - he was struck by a car while riding a bicycle - so Tony grew up under the influence of his older brothers. The boys happened to be boxing fanatics, already consumed by the fast-growing national ritual of gathering 'round the family radio to listen to fight broadcasts. Tony picked up on the excitement. He developed his own knack for boxing, with a style that relied mostly on cruel blows to the body. According to one of his opponents, when Zale sank one into your gut, it was "like getting hit in the stomach with a hot poker." The line sounds good no matter how many times you hear it, and you'll hear it often in this book.
In 1934, just weeks after his 20

th

birthday, he fought his first professional bout, a four rounder against a far more experienced Eddie Allen at the Marigold Garden Outdoor Arena in Chicago. Zale won, but thanks to recurring injuries and bad management, his career never took off. After a few years of losing as often as he won, Zale "retired", taking a job in an Indiana steel mill where one of his tasks was to scrape the walls of a blast furnace. The dirty work seemed to reinvigorate him; when Zale returned to boxing, a Chicago reporter said he looked "like a new piece of steel." Thus, a nickname was born. Now dubbed The Man of Steel, and with a new management team, Zale resumed his career with a new determination. By the time Zale marched off to join the war effort, he owned the middleweight championship. He'd also become popular enough that a free bout in Milwaukee against Billy Pryor drew a whopping 135,000 fans in Aug. 1941.
A three year navy hitch was followed by three dramatic bouts with Rocky Graziano, a colorful fighter whose taste for mayhem matched Zale's. Their meetings were legendary, but winning two of the three took something out of Zale. In a way, he never quite recovered from the second Graziano bout, which left Tony looking as though his "bones had melted when he was draped over the ropes." There followed a devastating loss to Marcel Cerdan, and then the inevitable post-career turmoil that many fighters face. Zale considered comebacks; he endured a stormy and often violent marriage to his first wife, who liked to kick him in the groin for amusement; he lost custody of his children in an ugly divorce; he scrambled around for money; he married a second time, with better luck; and of most importance to boxing fans, he became a sort of walking immortal, largely because popular sportswriters like Jimmy Cannon, WC Heinz, and Red Smith, heralded the bouts with Graziano as all-time classics. (Though not, as Thad Zale rhapsodized at his uncle's funeral, "the three most memorable bouts in the history of boxing.")
Moyle is a thorough researcher who has written some good books in the past, including a useful biography of Sam Langford. Meanwhile Thad Zale is the keeper of the flame, so to speak, the protector of his uncle's legacy. The collaboration works well enough, but the authors tend to overplay everything. For instance, Zale's religious nature is touched on so many times that readers may wonder why the book wasn't called "Saint Tony of the Steel Mills." The book also suffers from wordiness. You can almost hear Tony Zale scolding the authors, "You're telegraphing those punches, guys. Keep 'em short and tight."
Naturally, much of the book is devoted to the Zale- Graziano bouts, and the authors do a nice job capturing the vibe of those years. Yet, it was Zale's shocking 1948 loss to Cerdan that creates the most interesting chapter, for the bout seemed to usher in a new era for boxing. Post-war extravagance became all the rage, with glamorous fighters like Cerdan coming into prominence, while Zale represented pre-TV simplicity. I loved how Zale went a little loopy after the loss. This was a different Zale, slightly irrational, demanding a rematch, and insisting that he was beating Cerdan before the bout was stopped. In reality, the Frenchman had practically broken Zale in half.
Zale found his life's second calling by working with youth groups, a noble vocation that took him all the way to a meeting with President George H.W. Bush, who presented Zale with the highly regarded Presidential Citizenship Medal in 1990. In 1991 Zale was inducted into the International Boxing Hall of Fame. The remainder of his life was a blur of banquets and awards. But even Zale's golden years were not without incident – after an altercation at the youth club where Tony worked, an unknown assailant attacked him with a baseball bat, leaving the old champ deaf in one ear. Much later in life, while Zale resided in a nursing home, he suffered another mysterious attack that left him badly bruised. How strange it must have been for the mighty Zale to be hammered down by these unknown enemies lurking in the shadows. He was even slugged once by an angry driver after a road accident. It was as if Tony's toughness made him an inviting target, and people couldn't stop getting their licks in.
The authors tell all this and more. Too much more, until the book grows long-winded and clumsy. There's also a surplus of photographs, 400 when 50 would have been plenty. We see pictures of Zale at home, or sitting in a barber's chair, or dancing with his second wife at a senior citizens polka party. The photographs are quaint, but did we really need a picture of Zale with John Ritter of 'Three's Company'? (I did, however, love the pic of Zale with former lightweight champ Lew Jenkins; Zale is grinning, but Jenkins has no life in his eyes, the fire inside long gone out. It's chilling.)
There are some morsels of interest, though. I was fascinated to learn that the original Nutty Professor himself, Jerry Lewis, was intent on promoting a bout between Zale and Sugar Ray Robinson. The authors don't go into why Lewis couldn't make the bout, but there's an on-going through-line in the book that Robinson avoided Zale. True, Robinson was often respectful of Zale, and the authors get a lot of mileage out of a quote where Robinson said he wanted no part of Zale's body punches. Still, I think Robinson was merely being magnanimous. Robinson found a way to beat everybody, and he would've beaten Zale, too.
It was also interesting to read that Zale had a handshake agreement with Rocky Marciano to open a training camp in Florida, only to see that idea crushed when Marciano was killed in a plane crash in 1969. What interested me about a Zale-Marciano gym was that several other people have told me the exact same story about Marciano wanting to go into business with them. I guess Marciano made promises to a lot of people shortly before his death. Zale was just one of many.
I remember seeing a TV clip where Zale and Graziano discussed their famous trilogy of bouts. Graziano did most of the talking. Zale didn't say much. Perhaps Zale knew Graziano was the A-side of their pairing, and that even in retirement, Graziano was still the A-side. This isn't a knock against a fighter who simply went about his business and won fights, but Zale was one of boxing's quiet men. Yet, even if he didn't capture the public's imagination like a Dempsey or an Ali, or for that matter a Graziano, we can still enjoy learning about Zale, and we can marvel at his achievements, much like those embalmers in Indiana who couldn't get over how good the old corpse looked.
That's why Clay Moyle and Thad Zale's nearly 500 page biography is worth owning, even if it is an overstuffed love fest.
Tony Zale, The Man of Steel, is available from Win By KO Publications; hardcover; $35.00)