NEW BIO TELLS SAD, COMPLICATED TALE OF 1960s BOXING CHAMPION...But Will We Ever Know The Whole Story about Emile Griffith?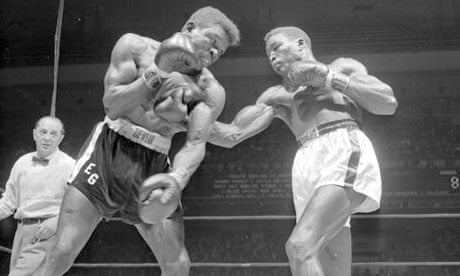 If they ever decide to make a movie on Emile Griffith's life based on Donald McRae's A Man's World: The Double Life of Emile Griffith, this is how the opening scene should play: Griffith, wearing an electric pink jumpsuit, is dancing at his favorite Times Square gay bar while an entourage of transvestites and young Latino males scream encouragement. Then, as the NYPD arrives to bust up the place, Griffith sneaks out. He heads home in a pink convertible, past the old Madison Square Garden where he'd thrilled so many fans during his boxing career,

back to his swanky Weehawken apartment where the partying continues. He climbs into bed with his favorite fellow, but the camera zooms in on Griffith's tortured face as he begins to weep. According McRae, the five time boxing champ was often in tears.
It was, McRae writes, a life of melancholy broken up by occasional bursts of happiness.
Griffith, a winner of 85 professional bouts and twice chosen by boxing writers as Fighter of The Year, was forced to keep his love life buried away, for fear of how the macho world of boxing would react. It was a constant game of denial, as sportswriters needled at Griffith, asking about his past as a designer of women's hats, and why there were no women in his life. It wasn't much of a secret, really. Griffith never denied himself the company of men, especially younger ones that he would introduce as his "nephew" or "son." But he knew any public declaration of his personal life wouldn't go over well, not at a time when New York was in the middle of what appeared to be a queer witch hunt, partly because, of all things, the 1964 World's Fair was coming. Mayor Robert Wagner felt it would be bad publicity if the rest of America saw New York's streets crowded with gays. It wasn't uncommon in those days to see gays arrested and locked away, or thrown into psychiatric wards where they'd undergo everything up to and including electroshock therapy. It was a time when Griffith's friends protected themselves by carrying box cutters and lead pipes in their bags.
Griffith never liked the word "gay." Something in his Caribbean background bristled at the word; he didn't know why people used it to describe him, and said it made him "sound like a freak." Of course, old-time psychiatrists would consider him a textbook case, with an absent father, a controlling mother, and an ugly encounter in the Virgin Islands of his youth, when a dirty old man lured young Griffith to a shed and molested him. Griffith nursed a lifelong puzzlement over the entire gay phenomenon.

He loved his gay friends, had his most fulfilling relationships with men, but was baffled when people called him "gay." Who knows what the word really meant to him? And how would he feel to know that each new book or documentary exposes a bit more of Griffith? McRae doesn't merely say that Griffith enjoyed dancing with men, he describes scenes where Griffith is up on a pedestal like a go-go boy, being felt up by men in drag. I can almost hear Griffith saying, "Why do you write about me this way?"
When pressmen weren't writing articles that hinted at Griffith's sexual preferences, they were badgering him about his 1962 title bout with Cuba's Benny 'Kid' Paret, the one that resulted in Paret's death. It was the third time they'd fought, and Paret had been taunting Griffith ever since the weigh-in of their second bout. In fact, McRae reveals that Paret's taunting had been far more graphic and crude than we've previously heard about. The fight, shown on ABC television on a Saturday evening, ended with Paret slumping to his death as Griffith punched away at his head. And just like that, the happy go lucky Griffith, who'd started boxing just a few years earlier as a bubbly kid, had a dark cloud over him at all times. For most fighters of Griffith's time, being gay would've been enough of a cross to bear. Killing an opponent in the ring would be, too. Griffith had both things to contend with, which provided him with a piercing way of describing our screwed up society: "I kill a man and most people forgive me. However, I love a man, and many say this makes me an evil person."
The book reads like a biography wrapped in a history lesson, with McRae giving us plenty about the Cuban missile crisis and the Kennedy assassination to provide a sort of grim, 1960s backdrop for the Griffith story. What's intriguing is that, aside from the gayness, Griffith's story isn't much different from any other pug's tale. Griffith was a simple, inarticulate man surrounded by a family of bloodsuckers who spent his money faster than he could make it. He fought long past his prime to help support them, and ended up with dementia pugilistica. His final days were spent in a Hampstead NY care facility, sitting in bed staring into space.
McRae tries to find as many high points as possible, including the boxing triumphs over Luis Rodriguez and Nino Benvenuti, and the time when Griffith stood up to South Africa's Apartheid government and said he wouldn't fight in Soweto unless his white trainer was allowed in his corner. But the good times never feel like total victories because we know there's so much sadness to come.
The nightmares that haunted Griffith after the death of Paret are given an entire chapter, and they are chilling. A cackling Paret kept appearing in Griffith's dreams, offering his cold damp hand to shake, the hand of death. Many fighters have inadvertently caused the death of an opponent, and in Griffith's time there seemed to be a high profile ring death every few months, but has any fighter ever suffered guilt the way Griffith did? And has any fighter been so closely associated with a ring death as Griffith? Even later, when he became a trainer, Griffith was in Wilford Scypion's corner when Scypion caused the death of Willie Classen. Death by violence followed Griffith everywhere, and nearly caught him when, much later in life, he walked out of a gay club and was nearly beaten to death by thugs. The attack put him in the hospital for four months. The nightmare played on.
To McRae's credit, he doesn't oversell Griffith as a fighter. Griffith was good, though. After the death of Paret, Griffith grew shy about hurting opponents. Yet, he was still able to win fights just by using basic boxing skills, a good jab, enough pressure to win rounds. Imagine trying to win fights without hurting a guy? Griffith was good enough to do it. Then, in his mid-thirties and just about washed up, he gave reigning middleweight champ Carlos Monzon a pair of gritty, close fights, nearly winning a sixth world title. Considering Griffith never wanted to be a fighter in the first place and would've been happy working at a millenary, his ring accomplishments were impressive, well worth his eventual induction into the International Boxing Hall of Fame. He went in with the 1990 class, the first group inducted, which included Ali, Louis, Robinson, all the best. That Griffith was part of the 1990 class is astonishing. He'd only taken up the sport when his boss at the hat factory noticed his physique and suggested Griffith enter a local tournament. Talk about being plucked from obscurity!
While the book is enjoyable, there are shortcomings. McRae writes with a heavy hand and leans toward the sentimental. There are times when McRae seems downright dumb with his choice of words, such as when he describes Griffith as being "both a king and a queen," or when referee Ruby Goldstein breaks a clinch between Griffith and Paret as if they were "two teenage lovers caught canoodling on a park bench." McRae is better off when he doesn't try so hard, like when he describes the distressed Griffith speaking to the press after the Paret disaster, when "words fell from him in a broken mess."
McRae's portraits of other fighters are well drawn, such as the sharpshooting Rodriguez, known as "El Feo" (The ugly one), and bighearted Joe Frazier, who befriended Griffith. I especially liked McRae's depiction of Griffith's trainer, the stoic Gil Clancy. Paret, too, is given a detailed treatment; one feels for the Kid as he complains of headaches for months before his tragic night with Griffith.
Still, McRae has an unfortunate urge to insert himself into the story. Those chapters feel mawkish, with McRae visiting Griffith at the care facility, trying to speak to the oblivious old fighter, "my hand curled around Emile's." A chapter where McRae visits Orlando Cruz, a fighter who came out as gay in recent years, feels forced into the book and doesn't amount to much. By the 10th time McRae hauls out Griffith's quote about killing a man, you may want to kill McRae.
The book's biggest flaw, though, is McRae's attempt to turn Griffith into a sort of gay Joe Louis or Jack Johnson. There may be something to this angle, and it's possibly how McRae pitched the book to his publishers, but it's a stretch. McRae's suggestion that Griffith hearing a gay slur was more hurtful than being called a racial slur is also suspect, as is the notion that the gay rioters outside the Stonewall Inn battled the NYPD "as if the spirit of Emile Griffith…had entered every one of them." I doubt the bottle throwing transvestites were thinking much about Griffith at all. Besides, shortly after the Stonewall riots, Griffith was involved in a sham marriage with a former member of the June Taylor Dancers, hardly the action of a gay freedom fighter.
But then, when one writes about such a sad and complicated figure as Griffith, there's a tendency to elevate him, to find some reason for his life other than pain and sorrow. Freddie Wright, an old friend of Griffith's, put it well for McRae: "Emile lived in two worlds. He was a great fighter and they loved and respected him in boxing. In his other world, in my world, he made gay people feel so proud – especially because he was a world champion boxer. We not only respected and liked Emile, we loved him. Yeah, he lived two lives, but each one should be remembered. Each one should be celebrated."
Fair enough. That's why McRae's book, as uneven as it may be, is worth a read.