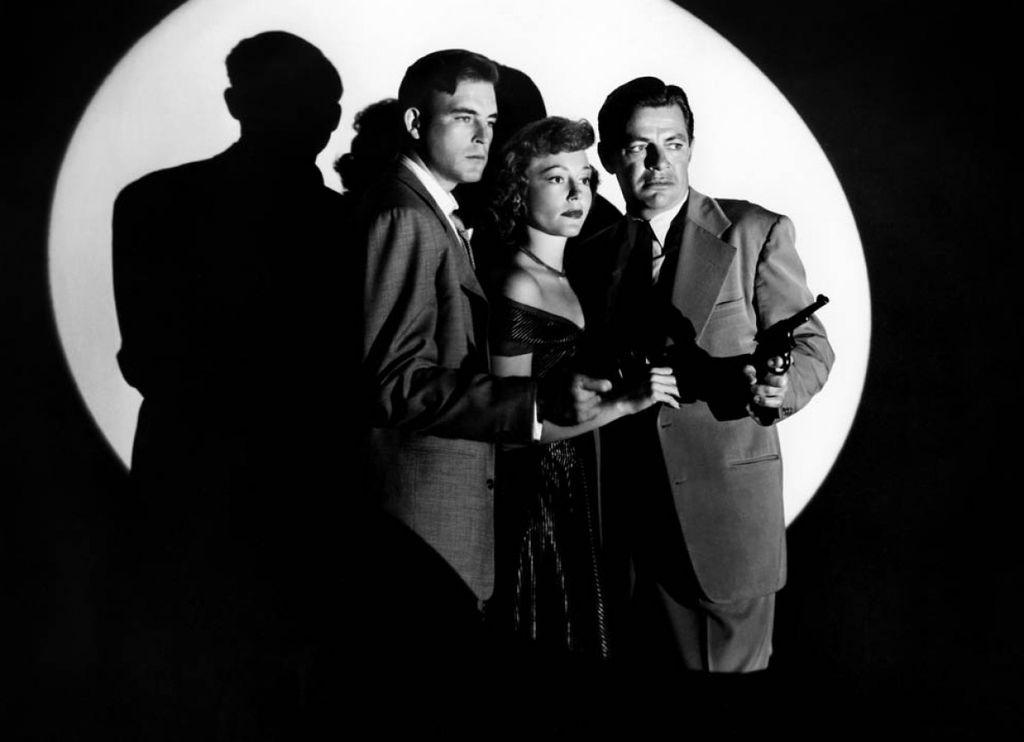 NOIR. It's the most distinctive of American film styles, though it was named by the French and owed a lot to ex-pat European directors who had escaped to Hollywood to avoid the Nazi uprising. Five great examples of this shadowy style of filmmaking are now available from thefilmdetective.com. But remember, not all crime films are noir, and not all noir films are about crime. Got it? Good...
DETOUR (1945)
He went searching for love... but Fate forced a DETOUR to Revelry... Violence... Mystery!
This Poverty Row landmark features Tom Neal as Al, a lowlife nightclub pianist hitchhiking across the country. Along the way he falls into so many ill-fated circumstances that he wishes he'd stayed in New York. Despite its downbeat atmosphere, this dirty crime classic from cult director Edgar G. Ulmer has many admirers. The late Roger Ebert described Detour as "haunting and creepy, an embodiment of the guilty soul of film noir. No one who has seen it has easily forgotten it." Also, look for Ann Savage in a mesmerizing performance as Vera, the dangerous woman Al meets on his road to ruin!
Several years after appearing in Detour, Tom Neal was given a 10-year sentence for killing his wife. He only served six years on an "involuntary manslaughter" charge, but died of a heart attack shortly after his release….
HE WALKED BY NIGHT (1948)
Savage! ... Searing! ... True! From the Homicide Files of the Los Angeles Police!
This iconic film noir stars Richard Basehart as a cold-hearted cop killer. With a supporting cast that includes Whit Bissell, and Roy Roberts, this feature from director Alfred L. Werker (The Adventures of Sherlock Holmes, Shock) is generally considered one of the great police dramas of all time. Helped by the incomparable camera work of cinematographer John Alton, and an uncredited assist from director Anthony Mann, the film was described in Variety as "a high-tension crime thriller, supercharged with violence but sprung with finesse."
Jack Webb has a small role in this film, which is fitting since many consider He Walks By Night as a forerunner of Webb's TV show, Dragnet…
A STORY OF SMUGGLING AND MURDER, FRESH OFF THE NEW YORK STREETS!
Movie icon Yul Brynner made his debut in this tough crime thriller from director Laslo Benedek (The Wild One). Brynner plays ruthless gangster Paul Vicola, a murderous thug whose gang has stolen medicinal narcotics from a ship docked in New York harbor. The movie also stars Scott Brady and Richard Rober as the agents out to stop Vicola, a dangerous assignment since Vicola is the sort who will have his own girlfriend killed if he thinks she knows too much!
Part of this movie's authentic look comes from its excellent

use of location shooting.

The East River, LaGuardia Airport, the U.S. Customs House, and New York's Penn Station were all shot by ace cinematographer George E. Diskant, the man behind the look of such noir classics as Beware, My Lovely, The Racket, and On Dangerous Ground…
A man learns he's been poisoned and has only a few days left to live. In the remaining time, he's hell-bent on catching his own killer. It's Edmund O'Brien racing against the clock in D.O.A., a picture as excitingly different as its title!

The film was directed by Rudolph Maté, who was already known as one of the best cinematographers of the day. As a cinematographer, he'd worked on a number of classics, including Gilda, and Pride of the Yankees.

When Alfred Hitchcock or

Orson Welles needed a top cinematographer, they called on Mate'.

Mate' was nearly 50 when he began directing his own films. DOA was one of his early efforts. It's probably his best.
The scene in which Edmund O'Brien runs through the streets after learning he's been poisoned was a "stolen shot." It was done without a city permit, and completely improvised without actors. The pedestrians had no idea that O'Brien would be shoving his way through them. It turned out to be a great scene and adds to the movie's sense of urgency. Of course, this technique can sometimes create problems. In another movie, Who Killed Teddy Bear, Sal Mineo was running down a New York street in a similar "stolen shot." A pedestrian, thinking Mineo was a hoodlum who'd stolen someone's purse, tackled him to the ground. So much for guerilla filmmaking…
KANSAS CITY CONFIDENTIAL

(1952)
Every city wears a mask! This is the picture that goes behind that mask to bare the bullet-scarred face of a brutal underworld!..
...Kansas City Confidential
stars John Payne as an ex-con wrongly accused of robbing an armored car. He ends up in Mexico, trying to figure out who framed him and why. Along the way he meets thugs, corrupt cops, and hired killers. It's all presented in the exciting noir style by director Phil Karlson, a Hollywood journeyman who directed everything from Elvis Presley movies to the original Walking Tall in 1973. Also, look for a trio of Hollywood tough guys in supporting roles: Neville Brand, Lee Van Cleef, and the crazy-eyed Jack Elam.
After serving two years during World War 2, John Payne returned to Hollywood and found that producers no longer offered him the top roles. It was decided by the film studios that Payne should darken his image.

That's when he found himself cast in war movies, westerns, and crime thrillers like Kansas City Confidential. He even stopped shaving his chest so he'd appear more threatening…
All of these movies are available through thefilmdetective.com, where vintage films are remastered, restored, and reborn. Follow us @FilmDetective
Or follow me @DonStradley